Case Study
B2B Application Development from White
Board to Mission Critical Platform
A group insurance broker needed a software platform to differentiate their business and catalyze growth. But without any internal software development experience, they were struggling to deliver a platform that met their needs. After two failed projects, they were not only frustrated, but running out of time.
SOLUTION
The project evolved in two phases: first, to convert the white board vision into a detailed, actionable development plan that could be estimated; and second, to build the software within the agreed budget and scope while accommodating changing priorities.
Two years later, the company is thriving and a team of 14 continues to advance the software platform as business needs dictate.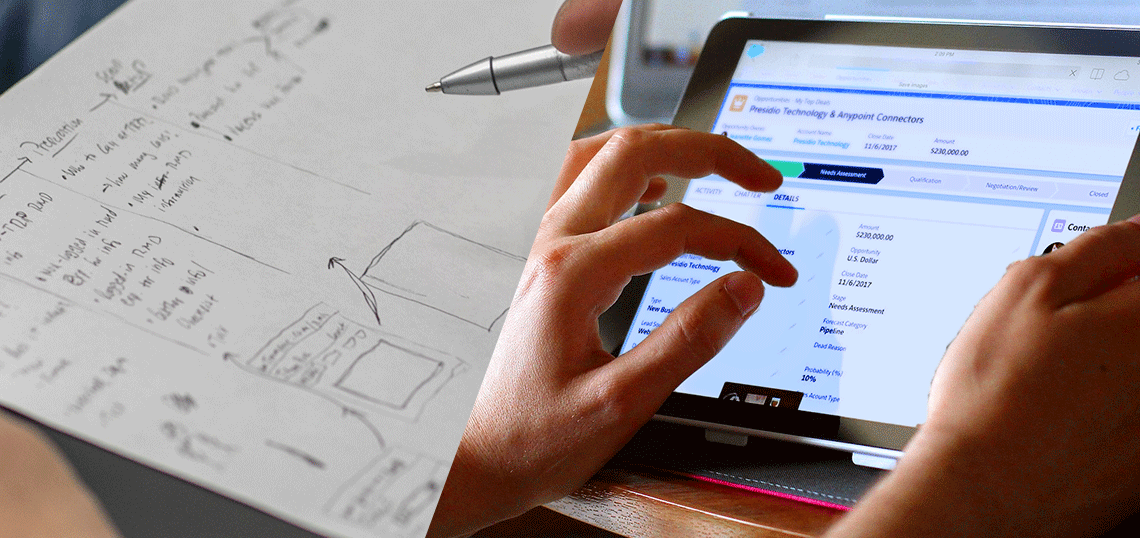 BENEFITS
No technical knowledge required. Our uniquely skilled project managers will work with non-technical business experts to build a "development-ready" specification and timeline.
Bring a competitive edge to your business with custom software. Because internal development projects are hard to manage successfully, you can achieve strong competitive advantages by successfully achieving what your competitors cannot do.
Changing priorities is expected. Our process is based on change. Although we work with you to develop an initial scope, our development process involves weekly checkpoints where you can assess progress and discuss evolving requirements. You're always in control of the process, every step of the way.
DETAILS
When designing a benefits package for their employees, mid-sized businesses often turn to brokers to help navigate the complex world of benefit options and insurance companies. Until recently, it was a competitive industry with little differentiation between the brokers. One company saw the opportunity to shake up the industry if they could provide a seamless platform that gave:
The covered employees the ability to maintain their own profile, employers the ability to manage their employee pool online.
The broker the ability to generate invoices and other reports quickly. The broker an automated feed to the insurance companies, minimizing the need for manual update of providers' systems.
Integration to ADP, so that clients with ADP's widely-used HR and Payroll solutions would have an integrated experience. Everyone the assurance that their personal data would be secure from identity theft and other online threats.

Thank you Dandelion for the outstanding professional job you did for us! I highly recommend you for the quality and professionalism that I experienced every step of the way! I look forward to a long lasting relationship!
However, when trying to realize the vision, it became obvious that hiring some developers through popular freelance platforms was not working. Local software development companies gave high cost estimates with little transparency. After two failed attempts to build their vision, they were frustrated and significantly behind schedule.
Our team walked the client through our standard two-step process. First, the application vision was analysed in detail, and a detailed scope for the project created. This enabled a meaningful discussion about budget vs timeline, and an initial team of three developers was approved.
Based on the agreed framework, development began and weekly client check-ins were scheduled. At each weekly call, the team demonstrated the latest product enhancements to the client, and the client provided feedback where appropriate.
After the initial three months of development work, the client had an MVP ("Minimum Viable Product") that could be used to store their client and covered employee profiles, and allow employees to update their own profiles.
Their business was able to reach additional clients, and priorities evolved. Additional benefit options were added to the platform as the client's offerings expanded. Invoicing became a top priority, and was also prioritized for immediate implementation. With the successful reception of the of the project, the team was expanded to 5 developers and a QA engineer.
As development continued, it became clear that the integration to ADP was needed sooner than expected, and needed to be seamless, as many clients were using ADP for HR and payroll management. This additional requirement was scoped, and another developer and QA engineer added. The team then worked closely with ADP to meet the complex requirements of a tight B2B